This page was created to help anyone who feels they need to take legal action against BRP's Very Limited Track Warranty!
Oct. 21, 2007
I went to the Milwaukee Snowmobile Show to checkout what's new in traction. The most controversial product I saw was Ski Doo's new Phantom stud. I said stud because the only one I saw was the one BRP showed at their display. I heard later that Woody's had one at their booth. The name seems to be appropriate because I hear they are hard to find.
One of BRP's designers told the story of how they created their weight savings on the 08's. He got my attention when he brought up this new Phantom stud. He mentioned how BRP, Woody's and Camoplast had spent 300 hours fine-tuning the design of this stud on the trail to get it just right. Together they came up with the perfect shoulder height to apply the precise amount of pressure to prevent the stud from tipping. In their dreams
He went on to say, that despite what other stud guys have been saying they could not have come up with a product, that could work, especially without ever testing their studs on a sled. I guess years of EXPERIENCE doesn't carry any weight with them. He kept calling their studs cookie-cutters. Apparently, he did not know Stud Boy had bought a track from Camoplast before they made their version. Neither did he seem to know that Fast-Trac had already demonstrated shoulders were never necessary.
He said that track damage would occur within 3 weeks of putting the other guys studs in this track. And, that the 25 cents savings was not worth the risk. (84 x 25 cents = $21.00) He mentioned that the pattern was for only 84 studs but did not mention the BRP studs are $3.45 each or $289.99 per kit. I saw studs sold at the show for less than half that. (84 x $1.68 = $141.12) He never mentioned what the thought process was to put only 84 studs on a 800cc sled. He did mention putting the photo of anyone stupid enough to buy the other brands on their idiot page.
He did not mention how big the head and backer plate is. The head looked like it was around 1 1/8" across and the backer looked like it was it at least 1 ½" across. The track could be too ridged to go around the wheels with more. Maybe, that is why they used such a low number to establish their track Warranty. I am sure lots of snowmobilers will void the track warranty with more studs because it will be safer and cheaper than hitting a tree.
________________________________________
None of these Woody's studs/backers grab the track exactly the same, proving there is no one exact configuration needed to grab the track.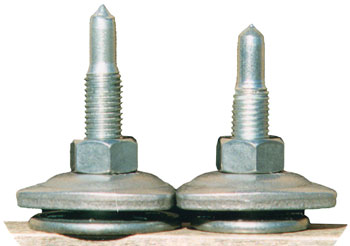 Because the plates line-up the shoulders have
to be the same height.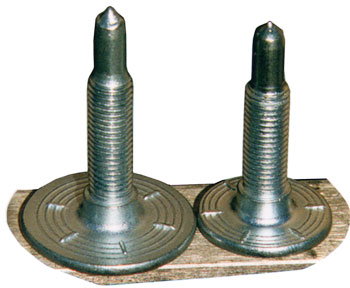 As this photo shows, BRP's – Phantom stud is just a mega-sized Excell stud.


Head to shoulder height comparison history
Phanton - .285"
Excell - .285"
Stud Boy - .270"
Stud Boy – version of Phantom - .190"
Roetin - .215"-.230"
Woody's - .260" - .330"
Fast-Trac – no shoulders
The variable heights demonstrate shoulders were never functionally needed. They all have worked in all the different tracks.
ALL THIS DEMONSTRATES THAT BRP'S "PHANTOM" STUD IS A LOT OF HYPE BUT THAT ISN'T A BIG SURPRISE. I WAS SURPRISED AT THEIR COST BUT REALLY DISAPOINTED IN THE VERY LIMITED WARRANTY.
TRACTION WITH 84 STUDS EXISTS IN APPEARANCE ONLY FOR AGGRESSIVE RIDERS. YOU CAN SEE THEM BUT THERE IS NO SUBSTANTIAL EXISTANCE. SPOOKY, ISN'T IT?
THE NAME REALLY DOES FIT! LOL!
GEE, THE DEFINITION OF PHANTOM EVEN FITS THE LIMITED WARRANTY!

Cookie-cutter design –


Only Woody's falls into that category
because only they roll the outside edge up.

This Fast-Trac stud with their plastic backer compresses the track evenly. Their studs have never had any problem staying in the track.
Note how the head hides in the track compared to Woody's patented head.

USING THE SESRA TRACTION REPORT AS A BASE YOU MAY NOT WANT TO USE 3/8" STICKOUT. BECAUSE THE ¼" STICKOUT STOPS SLEDS 10% FASTER. IT ONLY MAKES SENSE TO REDUCE STRESS ON THE TRACK CORDS. STUDS IN THE CENTER BELT ONLY PUSH THE SLED STRAIGHT.