What took them so long?
SnowGoer, Spring 2013, Page 41
Pilot 5.7 skis found on most popular Ski-Doo trail sleds since 2007 have two slots for wear bars: one in the center and another one along the outer edge that's prone to damage and wear because the skis come from the factory with only a center bar. Use a 3/8-inch bit to drill two holes on the outer edge of the ski, if necessary, trim with a sharp razor blade any ski material that has worn and folded over the grove. Now install a wear bar in the outer slot. This extra bar is strictly to prevent wear to the ski (not to provide traction), so it's a good place to put a used wear bar. It will likely last for many seasons.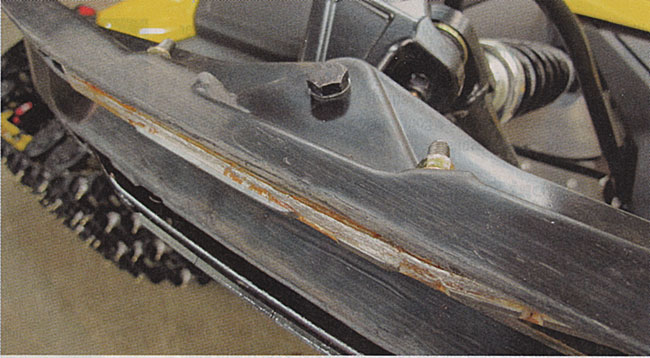 ---
SnowTech Magazine, Jan/Feb 2012

MORE RUNNERS
Dear Ralph:

I love your magazine. I had a 2006 Ski-Doo REV 600 SDI, Renegade with 5.7 Pilot skis. Each ski had two wear rods, one in the center and one on the outside edge. I just bought a 2012 Ski-Doo 600-E-Tech, Renegade Adrenaline XP with 5.7 pilot skis, but it only has one wear rod down the middle. Will this sled handle the corners alright like this? The skis can have holes drilled in them on the outside edge so I can install wear rods. Do I need to do that?
Larry Carlson

Generally, an XP with one runner (per ski) handles like a REV did with two runners per ski. The rider positioning of the XP places more weight on the skis than the REV chassis does so it doesn't need the extra runners to give you the same steering response. If you add the two outer runners to the XP skis (we tried it when the XP first came out back in 2008) it will make the sled turn even harder - steering effort increases.
I highly doubt you will find the Renegade lacking in handling capability. Try the sled as it is delivered and then make adjustments based on what doesn't suit you. If you do want even more cornering bite simply install more aggressive runners in the center. I would not install the extra set of runners, we've found that to be too much.

Surprised it took them 6 seasons to notice? I'm not! I've been telling my Pilot ski customers that since 2008, when they discontinued putting wear bars on the outsides from the factory. Of course, they never mentioned the reduction in ski life to the snowmobilers. They just pocketed the money they saved by using only one wear bar and cut the ski life in half, boosting ski sales.



---
Copyright © 1999-2016 Bergstrom Skegs, Inc.
All rights reserved.