1972
SKI-TRACS
SNOWsport Dealer News
Jan 1972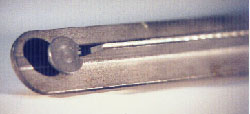 SKI-TRAC, for precision manuverablilty. Designed like an ice skate, SKI-TRAC enhances performance, control, manuverablilty for any snowmobile. Specially designed and constructed of hardened steel, SKI-TRACS enable the driver to achieve precise and positive steering of his sled.
---
1976
Carbide Runners
SNOWsports Dealer News
Aug/Sep 1976
Cross-Country Series
Engineered to offer increased control to trail riders. Outwear plain runners. Bolt into existing ski holes on most common snowmobiles.
Racer 600 Series
Better than comparable products from other manufacturers but priced lower. Feature 61 carbide and square host bar.
Pro Racer Series
Hardest host bar and widest carbide with deepest cutting edge make this the most aggressive racing runner available. Used by Ron Hall to win Eastern US Championship.
Matching Studs
For each series. Engineered to improve traction and control when used with Roetin runners.
---
Roetin Runners Increase Traction and Control
Snowmobile West
1976
Roetin Industries, supplier of ski runners to the snowmobile industry since 1972, announced the most complete line of carbide insert runners available to snowmobiler's for the 1976-77 season.

---
Snowsport Dealer News
Oct/Nov 1976
Cross-Country runners, designed for recreational trail riding, are said to greatly outwear conventional steel runners.
---
1980-1983
Carbide Runners by Roetin Industries
Parts Unlimited
Bell Industries

The square carbide inserts give more control that flatter angles yet doesn't chip like the sharper carbides. All have 9" of carbide.



Carbide Runners
quicker, more positive steering response
outwear plain steel runners
90 degree carbide inserts are more chip resistant than sharper racing runners.
easy installation requires little ski drilling
---
1984
SnoGoer Trade
November 1984
NEW! SUPERWEAR tm CARBIDE RUNNERS

Hardweld and carbide wear pads front and back.
MASTERWEAR tm CARBIDE RUNNERS
A proven winner & still the best value with twice the wear.

Increase your profits with Roetin's full-line of track and trail tested runner.
---
1985
Masterwear tm hardweld doubles runner life
Masterweartm Carbide Runners
A Proven Winner!
Snowmobile Business
July 1985
Roetin's hi-tech, high mileage Masterwear Carbide Runners vs. the other guy's outdated, low mileage carbide runners.
For only 20% more money Roetin's Masterwear hardweld doubles the wear over standard wear pads.
Twice the Wear!
Increase your profits with Roetin's full-line of track and trail tested runners.
---
1986-1987
Roetin Industries was the first company to manufacture and sell carbide runners. We've been in the business longer than anyone else and we've learned how to make the best products on the market. Several years ago, we found out that replacing two short carbide "wear pads" with Masterwear filler, doubles the life of the Masterwear Carbide Runners. While other manufactures have stayed with obsolete wear pads, we now use Masterweld on all our consumer carbide runners to give the customer more value for the money.
---
ECONOWEAR tm Carbide Runners

Extra long Masterweld wear pads.


---
MASTERWEAR tm Carbide Runners

Full length Masterweld filler on the keel of the runner, Masterwear Carbide Runners will out last obsolete carbide runners with wear pads two to one.
---
SUPERWEAR tm Carbide Runners

Keel has Masterweld filler and Carbide wear pads.

---
Masterwear Runners
Increase runner life with the genuine Roetin Masterwear runners. Hardweld buildup for increased wear. Highest quality weld in the industry. Weld is straight for true tracking. More hardweld material than on other hardweld runners.

---