USI Website, 3/9/13 # 2
USI 4 - Stud Wear Bar Kits (1989 - 2004)
Round Bars
Wear bars are made of hardened high carbon steel for durability and high wear. Carbide runners use either 60 degree carbide or 90 degree carbide on a 1/2" diameter host bar for the trail and competition. Centered at 50% front and rear from spindle center location, these wear bars will give you the optimum control at speed and in all riding conditions.
The absolute best wearing Round Bars you can buy!
Contrary to the claims made in USI's catalog (above link) the following two photos demonstrate the inaccuracy of their claim.

Their host bar "FAILED" the Hacksaw Test!
USI - 5-Stud Carbide Wear Bars X Series Round (2005 to present)
Round Bars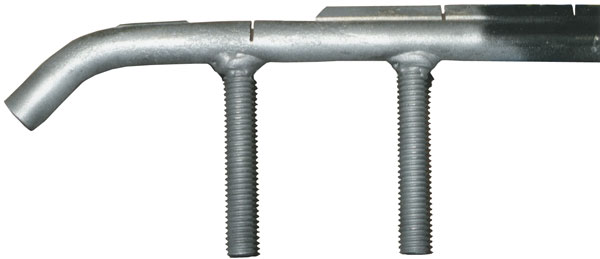 Their host bar "FAILED" the Hacksaw Test!
In 2002 Stud Boy started using this meaningless phraze - Our bars are made to the highest standard in the industry. More to the point, it can also be said that their bars are made to the lowest standards in the industry!!!
All steel bars are hard if you are hit with one!!!
That is no indication as to their durability on the trails.
The fact that their host bars can be hacksawed indicates they are only mild steel!!!
Round hardened high carbon steel vs hourglass super wear resistant hardened steel obviously, one's no better than the other because they both "FAILED" the Hacksaw Test!!!
AGAIN, KEEP IN MIND THE ONLY ACCURATE INFORMATION THAT IS LEGALLY REQUIRED OF THEM IS THE PRICING!!!
---
Copyright © 1999-2016 Bergstrom Skegs, Inc.
All rights reserved.