---
Ski Savers do 95% of the work of a full skin on hard packed trails!

The typical wear pattern on steel, skinned, and plastic skis is always worse next to the wear rod.
| | | |
| --- | --- | --- |
| | | |
| Because 95% of the pressure is next to the wear rod, where the sliding and wear occurs. Diminishes sled darting. The combination of the wear rod groove and the plastic's thickness reduces wear rod penetration while maintaining over all depth. | | Prolongs the life of ski skins, because most of the wear is next to the wear rod. Improves turning ability. Since ski skins slide sideways, just as well as when facing straight, the added ridge of the Ski Saver gives the ski more holding power in corners. Made from durable, slippery 1/4" or 3/8" thick UHMW polyethylene. |
---
It does matter what brand of wear rods you buy!
Even if this Arctic Cat rider had been given (for free) these Woody's, in the long run it would have been cheaper to buy Bergstrom Skegs!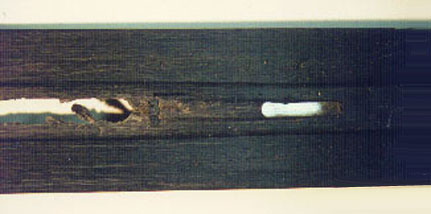 ---
Arctic Cat Ski - Woody's 8" Carbide - 1998-1999 - Used 550 Miles in Northern Wisconsin in 8"-10" of powder with, of course, little or no floatation.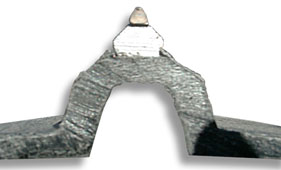 Note the wear on the ski on each side of the wear rod... despite the fact that all carbide is still there.
This proves that Ski Savers are needed before the wear rod is shot!
---
This is what Ski Savers prevent





Even the Woody's 6" Trailblazer, with wear pads front and back, could not prevent this steel ski from wearing thin. Once it gets thin enough, the wear rod pounds through the ski... costing you time and money.
As you can see in all of these photos, most of the wear occurs right next the wear rod.
On a plastic ski, Ski Savers are inexpensive insurance.
On a ski skin, not only do Ski Savers protect it, they provide an added edge along the full length of the wear area to help you turn in snow.
On a steel ski, not only do Ski Savers give you added protection, they give you the additional sliding benefit of UHMW polyethylene plastic.
---
Home | Main Prove It Page | Site Map
WEAR ROD CHARTS
Arctic Cat | Polaris | Ski Doo | Yamaha | Others
Copyright © 1999-2016 Bergstrom Skegs, Inc.
All rights reserved.