Accessories
Carbide Wear Bars

The high performance Simmons wear bars are custom built by Bottom Line Traction. Carbide inserts are placed throughout the wear bar 75 degree angled pads towards the back. Non-aggressive carbide wear pads towards the front. Many people wonder why we don't put cutting carbides in front of the spindle pivot point on our wear bars.The center or pivot point on the Simmons Flexi-Skis is located slightly behind the center-line on the wear bars thus requiring the cutting carbides to be placed rear ward to insure proper turning and tracking.
Now that's just stupid!!!
This statement is as bogus as their ski claims!!!
As the ski rides over un-even terrain the ski tip moves up and down as it rotates around the spindle bolt because that is the pivot point!!!
Their original turning carbide location was poor for 14 seasons.
Their upgraded turning carbide location has been worse for at least 5 seasons.
That's 19 seasons of sub-par control on ice.
Another dirty little Simmons secret is that they were always able to place the cutting carbide under the spindle of their original ski, on their 11 1/2" long host bar. They made a conscious decision twice, over 19 years, not to place the cutting carbide correctly.
4" Cutting Carbide Wear Bars
Extreme hard pack and ice condition. They were designed for moderate trail riding.
6" Cutting Carbide Wear Bars
More aggressive than the 4" designed for extreme trail riding and icy conditions.
If you are injured while using these carbides have your attorney contact me or use these links!

HOST BAR HACKSAW & FILE TEST RESULTS
"Good & Cheap is an Oxymoron"
The longer the host bar lasts, the longer the carbide stays sharp!
Different brands of wear rods were filed with a new 3/16" rat tail file (Nicolson #01888 file) and cut with a new hacksaw blade (Lenox #218HE hacksaw blade).
The results are shown below.
A host bar that can be filed will lose it's carbide inserts sooner. This is especially true for host bars that can be cut through by a hacksaw blade.
Typical carbide rod wear patterns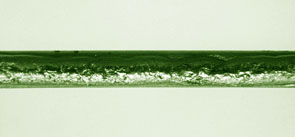 Bergstrom Skegs 3/8" hardsurfaced wear rod hacksaw and file test results
The Bergstrom hardsurfacing was only polished... while the file was ruined
New
File - Before used on Bergstrom rod
(photo enlarged)

Used
File - After used on Bergstrom rod
(photo enlarged)

Through no fault of your own, your expectations are too low if you have been satisfied with any brand that you can File and Hacksaw through!

The Bergstrom Good 'n Ugly carbides will outlast the following wear rods 3 to 5 times.
Triple Point Carbides outlast the Good 'n Ugly.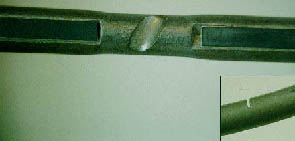 Bottom Line - "High carbon steel for long wear"
FAILED - Hacksaw and file test
(Includes Ditchbanger, Simmons, Diggerz, C&A, Razor Bladez, R.C. / Riders Choice and Sled Mate brands)
---
Dollar per mile, Bergstrom Skegs are the best value on the market...Period!