---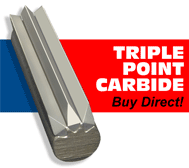 The Most Dramatic Turning Carbide Design and Concept
In The History of Snowmobiling!
Patent Pending
We are proud to introduce our latest "unparalled economical solution" for your traction needs. Our Triple Point Carbides provide function that has never been seen before!
---

Which wear rod is best for you?
Not just for aggressive riders!
Trail riders need to keep in control on ice and pavement longer too!
---
"Secure enough to be different. Creative enough to think OUTSIDE the box. Maintaining their uncompromising standards." A Bergstrom Skegs customer
All Triple Point Carbides use a round 1/2" host bar with hardsurfacing for strength and function. By keeping all three points as close to the center of the ski as possible, we avoid the deficiencies of wider platforms. (Why we do not offer dual runner rods)
The design of our Triple Point Carbide takes advantage of the hardsurfacing while it multiplies the effect on the edges. When new, the center carbide bears most of the load when going straight. When you turn the handlebars completely in either direction, the skis have a 10 degree tilt. The outside edges will also make contact in turns, putting twice as much carbide on the ice. The center carbide will wear down to the same height as the two outside edges. The outside edges will wear even with the center carbide, creating 90 degree edges. The center carbide wears flat, generating two 120 degree edges. The outside carbides will maintain an edge all the way down to the host bar allowing you to turn on ice or pavement much longer. In effect, they are self-sharpening.
---
Comments from snowmobilers:
Tester #1
Al Stern (found on page 172 in Warriors Of Winter)
February 27
Sled - Arctic Cat, Firecat 500, 2003
Area ridden - New London, WI
Miles ridden - roughly 450 plus
Riding style - Very aggressive
Snow conditions - Wolf River except when crossing road to get to and from river
Comments - I have been riding and racing for 38 years. I rode these rods about a 1/4 mile with little or no snow, and crossed a road to get to and from the river, around 6 times. I also made two trips to the gas station. Not only did they turn well, from start to finish, they wore great, as you can see. You have a winner there!
Al Stern
New London, WI
---
Tester #2
Sled - Ski Doo, MXZ 700,2000, 144 studs
February 6, 2003
Ski Doo, Adrennaline 800, 150 hp, 2001, 192 studs
Area ridden - Mostly UP - MI
Miles ridden - 935
Riding style - Very aggressive
Snow conditions - Good to poor
Comments -
WOW!!!!
You are onto something there. Never had anything work like it. Two hundred miles so far and they still have the same edge that they had when I took them out of the box. Great stuff. Also, 35 of those miles were at high speed down the road. The snow conditions in the UP were groomed with fresh snow cover. Some of the guys were complaining about the icy corners, I said to them "What ice???"
It didnít make any difference what the condition of the trail was, they seem to react the same coming off the snow onto the ice. Because the radius of the turn does not change. PERFECT!!!!!!! Also, the first gas station was a real eye opener. I turned around the pumps in a very tight circle to fuel up. Leaving was time to show off, so around the pumps I went again with no effort. Other guys were getting off their sleds dragging them around. Concrete has always been a problem in the past, but if these stay sharp, it wonít be a problem whatsoever. I have not noticed any extra effort on the handlebars, which is a big plus.
February 8, 2003
Ran 75 miles in the afternoon with the 800 just because we could, good snow conditions.
February 16, 2003
Rode a quick 65 miles yesterday on a pretty good trail. It was well groomed but had some spots where there was bare pavement from the summer time bike path. Time did not permit us to ride more so we were almost forced to do this in about 2 1/2 hours. That is when Handling becomes pretty darn important. Running these on my MXZ 700 144 studs, and after about 265 miles it still seems to experience some very welcome over steer. I like it that way!!! These runners have not changed since I installed them.
March 14 & 15, 2003
We went to Copper Harbor and rode 325 miles on the 700cc. On the same trip we hit gravel and pavement in Baraga.
April 5, 2003
We went to Munising and rode 130 miles on the 800cc in 10-12 inches of snow in the woods, rough trail conditions and bare pavement in town.
J.R.
2004 Season
The season is over for riding this year. Had a good time this past year. No breakdowns of any kinds. Logged about 2200 miles on the same triple points that I ran last year for 980 miles. Most of the miles were in Michigan (Upper and Lower) with very good conditions a majority of the time. Still the trips across the roads and into the gas stations on the pavement were very manageable, not to mention impressive. About 600 of the 2200 miles were logged in Canada on a three-day trip in January with excellent conditions. The last time out was the first weekend in April along Upper Michigan's Lake Superior's shoreline. Conditions ranged from very good to very poor. Snow, sand, mud, gravel, rocks, pavement and water were all part of the last ride. Isn't this sport great. I've run the same set of 24" triple points for the past two seasons and yet to find any discomfort with the handling capabilities.
Additionally, a new track and 192 new studs were installed at the start of the past season, along with the extending of the limiter strap for more traction. This would generally be a disaster looking for a place to happen with carbides having been run 980 miles the previous year. No problem, Awesome product!
My friend ran a set on his sled and was impressed with the extra capabilities compared with a competitor's dual runners (Dully). Even though he did not log as many comparison miles.
Keep up the good work on this outstanding product. 3000 plus miles on the same set of carbides without touching them with a sharpening tool is unheard of.
My wife's comments was, "I finally got ruuners that let me go where I want." And, I did not hear any complaints of sore shoulders or arms. "PERFECT." She was using 18" Triple Points along with 144 studs on a 700 MXZ
Thanks.
J.R.
---
Tester #3
During the first two weekends in March 2003, I had the opportunity to test the new Bergstrom carbides on my Arctic Cat ZR800. I was really surprised how well these carbides turned on pavement, after unloading the sled in Iron County, WI.. The first day of riding was the worst because there was barely any snow, but we rode 110 miles. With the 7 inch of powder lake effect snowfall the first night, conditions for the two weekends included icy and bare roads and trails, hard pack trails and lakes, and deep powder. After over 600 miles of riding I can honestly support these as the best ski runners I have ever used. They held my skis straight and true, cut precision lines in all trail conditions, and actually allowed me to turn when approaching gas pumps on nearly bare concrete and asphalt. After 600 miles of riding they showed only minimal wear.
M.L.
Kenosha, WI
---
Tester #4
February 15-19, 2003
Sled - Arctic Cat, Pantera 1000cc, 2000, blow molded ski
Area ridden - Crystal Falls, UP- MI
Miles ridden - 800 miles
Riding style - Very aggressive
Snow conditions - From good to bad
Comments - We were supposed to stay another 4 days, but temps got warm and snow on grades around Crystal Falls, Rockland and north to Amasa disappeared. Marginal conditions around Crystal Falls and Rockland with lots of rocks. Good by Sidnaw and Champion with lots of snirt by Watersmeet. I traveled 100 mph plus on the grades and ran most corners on one ski. In the mornings when the snow was "tight", both skis came off the ground accelerating out of the turns. A long track and 172 hp equals hard acceleration. (Iíve twisted off two drive shafts)
The carbides worked great but the most impressive thing is the wear! The usual wear is on both sides of the carbide. The wear on your new carbides after 800 miles is almost non-existent. Also, they worked great at the gas pumps! I was able to drive right up to the pumps, then back up turning the sled around, then drove back to the trails. The gas stations had little snow at best, usually bare asphalt or concrete.
L.V.R.
IL
He made two similar turning passes on hardpack to demonstrate how much harder the outside carbide works. The photo below shows a side-by-side comparison. The clean groove (on the right) shows an inside ski carbide. The churned-up groove on the left shows an outside ski carbide. Obviously, the churned-up outside ski carbide had much more force on it because it dug up the hardpack more.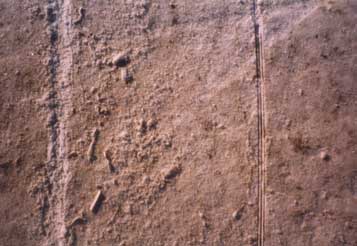 2004 Season
Just over 4200 miles and have not had to increase ski pressure. I'm looking forward to riding them in the upcoming '05 season.
Thanks.
L.V.R.
---
Tester #5
March 15, 2003
Sled - Arctic Cat, 4 Stroke, 2003
Area ridden - 120 mile radius of Boulder Junction, WI
Miles ridden - 812 (last 300 miles plus ridden March 12 and 13)
Riding style - Trail touring
Snow conditions - Terrible. Lots of mud, roads with some lake riding.
Comments - They turn like a son-of-a-gun! No darting, power steering effort and turning on ice was maintained for all the miles. All my friends were impressed.
C.F.
Wisconsin
---
Tester #6
Sleds - 1998 SRX 700, 192 studs (sled used in pavement video)
1997 XTC 500, 144 studs
Miles ridden - 500+

Our first trip, Feb.7-9, we stayed at the Casino in Watersmeet, MI, and rode between Lake Gogibic and Conover. The lake effect snow was only somewhat packed on the trails. We rode with six other sleds and they all complained about darting while we had none. We found these new carbides turned as easy as normal carbides. We missed a turn and rode about 10 miles on nearly bare road but they showed only slight wear.

Our second trip, Feb. 21-23, was to Ontonagon, MI, and we rode the Keweenaw Peninsula on loose lake effect snow. We still did not dart and the carbides turned us just fine. We were very happy with these carbides and wish we could have gotten more miles on them. I think people are going to like these, because we sure did.

Rod and Cindy C., IL
---
Tester #7
Scott,

The wear on your new carbide wear rod is wonderful. My wife and I had little riding last winter around Grantsburg, WI, and when we did ride it was tough conditions. We went for long stretches of all or mostly dirt conditions with a fair amount of rocks and such.

At winters end, I had a good look at the bars and your new style bars looked new except for one small chip. Considering the conditions I would NOT have believed this was possible especially considering how well the performance was. We totaled around 300 miles.

Only my sled had the new wear rods and the other sled had your Type III 6" wear rods and they wore down much more than mine, even to the point of having to change wear rods. I rode a '02 SRX big bore and my wife rode a '02 Viper ER. We both had Simmons skis, but we are switching back to the original skis because of the savings in the expense of carbides. We feel comfortable doing this because of the understanding, of how skis work in combination with wear rods, we got from you on how to balance the skis to improve function, reduce darting and increase wear. I wish I had talked to you before I spent all that money on aftermarket skis.

Thank you,

M.N.