Anti-Darting Carbides

Carbide cost per inch of turning carbide edge (per pair)
Compare the cost of Bergstrom Triple Point carbides to the compitition
Blue =

Dual Runner Carbides


Red =

Most carbide and lowest price per inch
Black = Single Point Carbide
Brand

Carbide

Total carbide
per pair

Cost
per pair

Cost
per inch

4"

16"

$103.90

$6.49

6"

24"

$127.90

$5.33

8"

32"

$169.90

$5.31

4"

$105.00

6"

$135.00

8"

$165.00

4"

16"

$109.90

$6.87

6"

24"

$135.90

$5.66

8"

32"

$189.90

$5.93

4"

16"

$6.11

6"

24"

$121.90

$5.08

8"

32"

$163.90

$5.12

Cobra

4"

8"

$159.95

$19.99

6"

12"

$169.95

$14.16

8"

16"

$189.95

$11.49

Snowtracker

4"

8"

$206.64

$25.83

6"

12"

$228.92

$19.08

N/A

Qualipieces*

N/A

6"

12"

$109.95

$9.16

N/A
* Anti-darting plate for Ski-Doo's Precision Skis

NOTES:

•

Dual runners

push in corners, increase drag, decrease mpg, and will dart following similar dual runners.



•

Cobra stops darting but offers no other benefits. Of course, putting a 2" wide flat plate up front stops darting but it also does nothing to help the sled turn! i.e. polaris ez-steer wear rod system and Ski Doo's plastic - PCS – Proactive Control System. 2009 Z1 Turbo



•

Snowtracker stops darting with unique fin profiles and narrower (1/4") and taller (3/4" to 1 1/16th") host bars. The lack of width increases the rate of wear on both the steel and carbide edges, it's a lack of mass thing. Taller profiles mean increased effort required to turn the handlebars. The fins appear to be made of sheet metal, which could result in durability issues on anything other than deep snow. (SLP's Keel Blade is only .100" thick, and durability is an issue.)



•

Triple Point Carbides provide complete control – no darting, no pushing in corners. Your snowmobile goes where you want it to, when you want it. There are no downsides. Read what others say.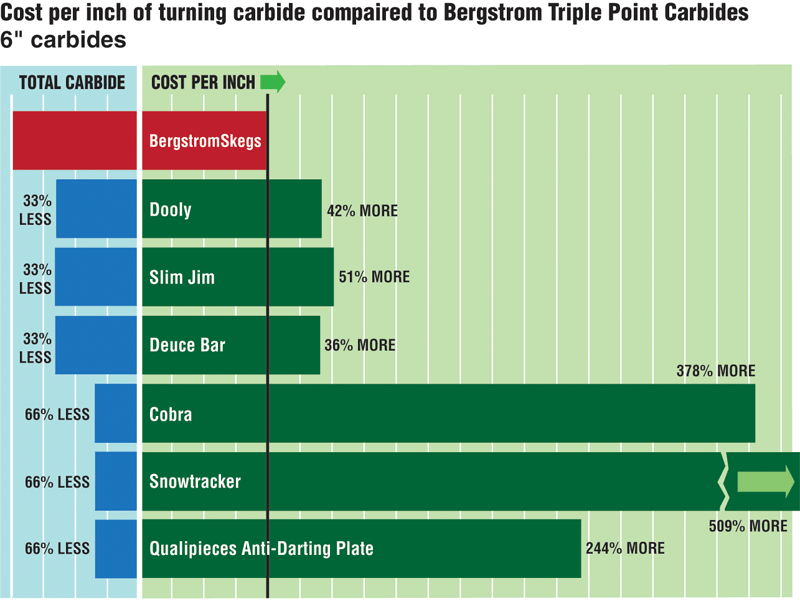 Copyright © 1999-2016 Bergstrom Skegs, Inc.
All rights reserved.