2011 Yamaha – Apex Power Steering
OSM Magazine
Spring 2010
Page 46
Borrowing technology already employed on their utility ATV models, Yamaha has brought the buttery smooth steering efforts of power steering to snow. Dubbed EPS for Electric Power Steering, this is more than a simple steering assist system. By utilizing several sensors, the system is a true, speed sensitive design, meaning it increases or decreases the level of assist based upon several factors.
The heart of the system is nestled underneath the aluminum steering hoop, just in front of the fuel cell. Combined with a sophisticated electronic control module found behind the front bumper, the system monitors vehicle speed, motor speed, steering input forces and the level of assist currently being generated. In short, the system produces near effortless turn-in at slower speeds, and then gradually reduces the level of assist as speeds increase, preventing unwanted and excessive steering movements at higher trail speeds. ???
But the introduction of power steering alone is not the real icing on the cake for the 2011 Apex models. By having the steering effort reduced to a near fraction of what it was, the sometimes tiresome Apex has not only become easier to ride, it has allowed Yamaha engineers to dial up the "bite" of the front suspension without negatively impacting steering effort. ???
To do this, the new Apex models feature a new ski with a shorter keel than previous designs that places more contact area behind the mount.??? This change is further enhanced by 15mm in increased trail, courtesy of a new spindle design. ??? These two changes in concert give 2011 Apex models more bite, and noticeably improved handling, with reduced ski lift and less darting ??? than the Apex of old.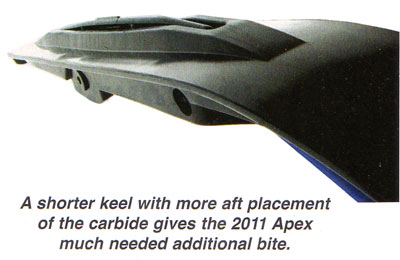 page 57

I was at the Green Bay and Stevens Point, WI, OEM shows to take measurements of the new Apex ski. I hung around the Apex sleds and heard a Salesman tell a customer something like this – You put a set of Dooly rods on and you can go as straight as an arrow on the straightaways. He did not mention that Doolys push in the corners, reduce mpg, and dart following other Doolys. He then went on to say, something like this – If you put a single runner on you will feel the ruts in the trail. I heard another salesman say something like this – The effort to turn was nice but I could still feel the ruts in certain conditions. Retail pricing at the show was listed at - $14,949.00.



2011 Apex ski | Snow Goer | American Snowmobiler | Snow Tech